A quick analysis of some notable A/B testing examples – divided by industry.
1. A/B testing example – Media & Publishing Industry
Some goals of a media and publishing business may be to increase readership and audience, to increase subscriptions, to increase time spent on their website by visitors, or to boost video views and other content pieces with social sharing and so on. You may try testing variations of email sign-up modals, recommended content, social sharing buttons, highlighting subscription offers, and other promotional options.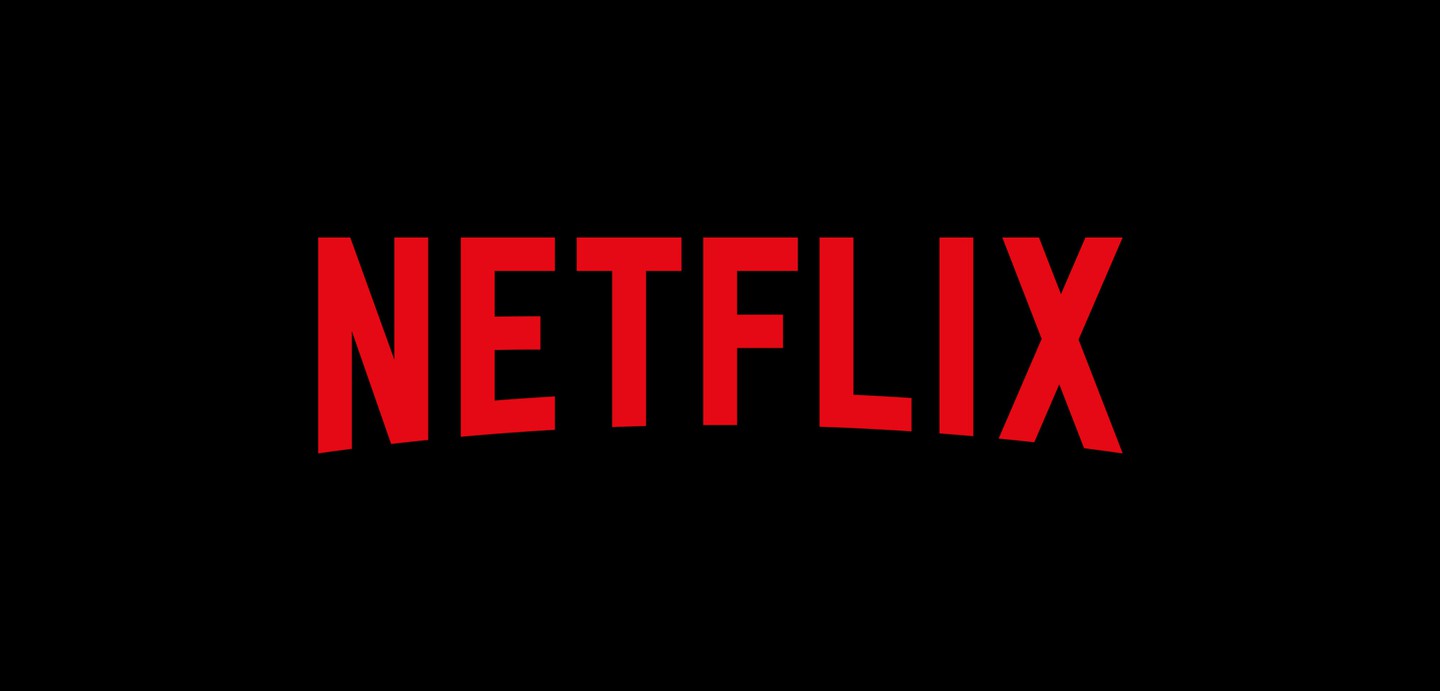 Anyone who is a Netflix user can vouch for their streaming experience. But not everyone knows how they manage to make it so good. Here's how – Netflix follows a structured and rigorous A/B testing program to deliver what other businesses struggle to deliver even today despite many efforts – a great user experience. Every change that Netflix makes to its website goes through an intense A/B testing process before getting deployed. One example to show how they do it is the use of personalization.
Netflix uses personalization extensively for its homepage. Based on each user's profile, Netflix personalizes the homepage to provide the best user experience to each user. They decide how many rows go on the homepage and which shows/movies go into the rows based on the users streaming history and preferences.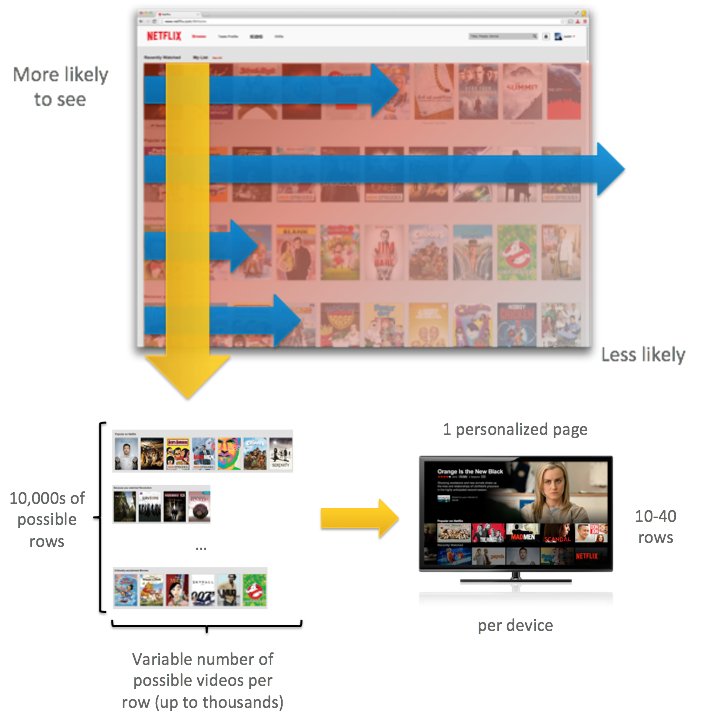 Source: Netflix Tech Blog
They follow the same exercise with media title pages as well. Within these pages, Netflix personalizes what titles are we most likely to watch, the thumbnails we see on them, what title text entices us to click, or if social proof helps make our decision easier, and so on. And this is just the tip of the iceberg.
2. A/B Testing example – eCommerce Industry
Through A/B testing, online stores can increase the average order value, optimize their checkout funnel, reduce cart abandonment rate, and so on. You may try testing: the way shipping cost is displayed and where, if, and how the free shipping feature is highlighted, text and color tweaks on the payment page or checkout page, the visibility of reviews or ratings, etc.
In the eCommerce industry, Amazon is at the forefront in conversion optimization partly due to the scale they operate at and partly due to their immense dedication to providing the best customer experience. Amongst the many revolutionary practices they brought to the eCommerce industry, the most prolific one has been their '1-Click Ordering'. Introduced in the late 1990s after much testing and analysis, 1-Click Ordering lets users make purchases without having to use the shopping cart at all.
Once users enter their default billing card details and shipping address, all they need to do is click on the button and wait for the ordered products to get delivered. Users don't have to enter their billing and shipping details again while placing any orders. With the 1-Click Ordering, it became impossible for users to ignore the ease of purchase and go to another store. This change had such a huge business impact that Amazon got it patented (now expired) in 1999. In fact, in 2000, even Apple bought a license for the same to be used in their online store.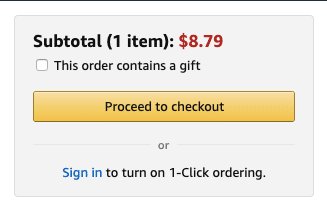 Source: Amazon
People working to optimize Amazon's website do not have sudden 'Eureka' moments for every change they make. It is through continuous and structured A/B testing that Amazon is able to deliver the kind of user experience that it does. Every change on the website is first tested on their audience and then deployed. If you were to notice Amazon's purchase funnel, you would realize that even though the funnel more or less replicates other websites' purchase funnels, each and every element in it is fully optimized, and matches the audience's expectations.
Every page, starting from the homepage to the payment page, only contains the essential details and leads to the exact next step required to push the users further into the conversion funnel. Additionally, using extensive user insights and website data, each step is simplified to their maximum possible potential to match their users' expectations.
Take their omnipresent shopping cart, for example.
There is a small cart icon at the top right of Amazon's homepage that stays visible no matter which page of the website you are on.
The icon is not just a shortcut to the cart or reminder for added products. In its current version, it offers 5 options:
Continue shopping (if there are no products added to the cart)
Learn about today's deals (if there are no products added to the cart)
Wish List (if there are no products added to the cart
Proceed to checkout (when there are products in the cart)
Sign in to turn on 1-Click Checkout (when there are products in the cart)

With one click on the tiny icon offering so many options, the user's cognitive load is reduced, and they have a great user experience. As can be seen in the above screenshot, the same cart page also suggests similar products so that customers can navigate back to the website and continue shopping. All this is achieved with one weapon: A/B Testing.
3. A/B Testing example – Travel Industry
Increase the number of successful bookings on your website or mobile app, your revenue from ancillary purchases, and much more through A/B testing. You may try testing your home page search modals, search results page, ancillary product presentation, your checkout progress bar, and so on.

In the travel industry, Booking.com easily surpasses all other eCommerce businesses when it comes to using A/B testing for their optimization needs. They test like it's nobody's business. From the day of its inception, Booking.com has treated A/B testing as the treadmill that introduces a flywheel effect for revenue. The scale at which Booking.com A/B tests is unmatched, especially when it comes to testing their copy. While you are reading this, there are nearly 1000 A/B tests running on Booking.com's website.
Even though Booking.com has been A/B testing for more than a decade now, they still think there is more that they can do to improve user experience. And this is what makes Booking.com the ace in the game. Since the company started, Booking.com incorporated A/B testing into its everyday work process. They have increased their testing velocity to its current rate by eliminating HiPPOs and giving priority to data before anything else. And to increase the testing velocity, even more, all of Booking.com's employees were allowed to run tests on ideas they thought could help grow the business.
This example will demonstrate the lengths to which Booking.com can go to optimize their users' interaction with the website. Booking.com decided to broaden its reach in 2017 by offering rental properties for vacations alongside hotels. This led to Booking.com partnering with Outbrain, a native advertising platform, to help grow their global property owner registration.
Within the first few days of the launch, the team at Booking.com realized that even though a lot of property owners completed the first sign-up step, they got stuck in the next steps. At this time, pages built for the paid search of their native campaigns were used for the sign-up process.
Both the teams decided to work together and created three versions of landing page copy for Booking.com. Additional details like social proof, awards, and recognitions, user rewards, etc. were added to the variations.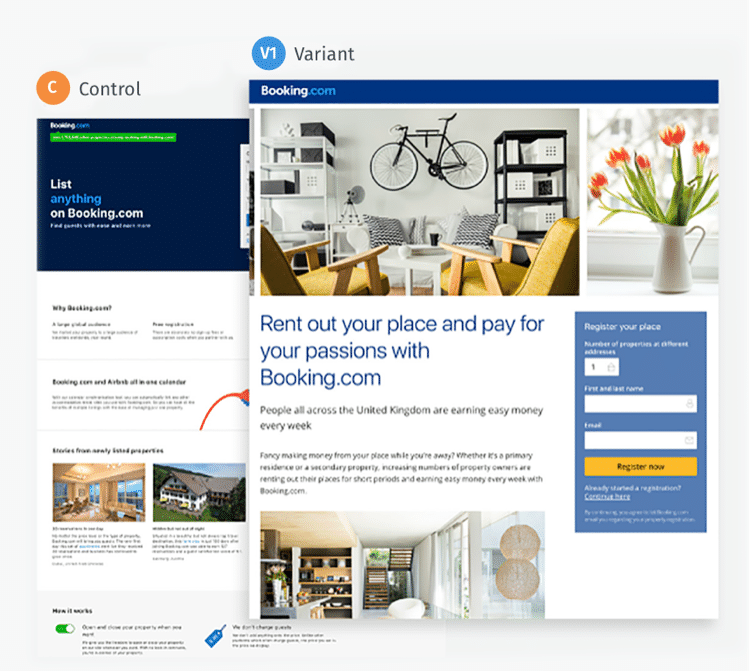 The test ran for two weeks and produced a 25% uplift in owner registration. The test results also showed a significant decrease in the cost of each registration.
4. A/B Testing example – B2B/SaaS Industry
Generate high-quality leads for your sales team, increase the number of free trial requests, attract your target buyers, and perform other such actions by testing and polishing important elements of your demand generation engine. To get to these goals, marketing teams put up the most relevant content on their website, send out ads to prospect buyers, conduct webinars, put up special sales, and much more. But all their effort would go to waste if the landing page that clients are directed to is not fully optimized to give the best user experience.
The aim of SaaS A/B testing is to provide the best user experience and to improve conversions. You can try testing your lead form components, free trial sign-up flow, homepage messaging, CTA text, social proof on the home page, and so on.
POSist, a leading SaaS-based restaurant management platform with more than 5,000 customers at over 100 locations across six countries, wanted to increase their demo requests.
Their website homepage and Contact Us page are the most important pages in their funnel. The team at POSist wanted to reduce drop-off on these pages. To achieve this, the team created two variations of the homepage as well as two variations of the Contact Us page to be tested. Let's take a look at the changes made to the homepage. This is what the control looked like: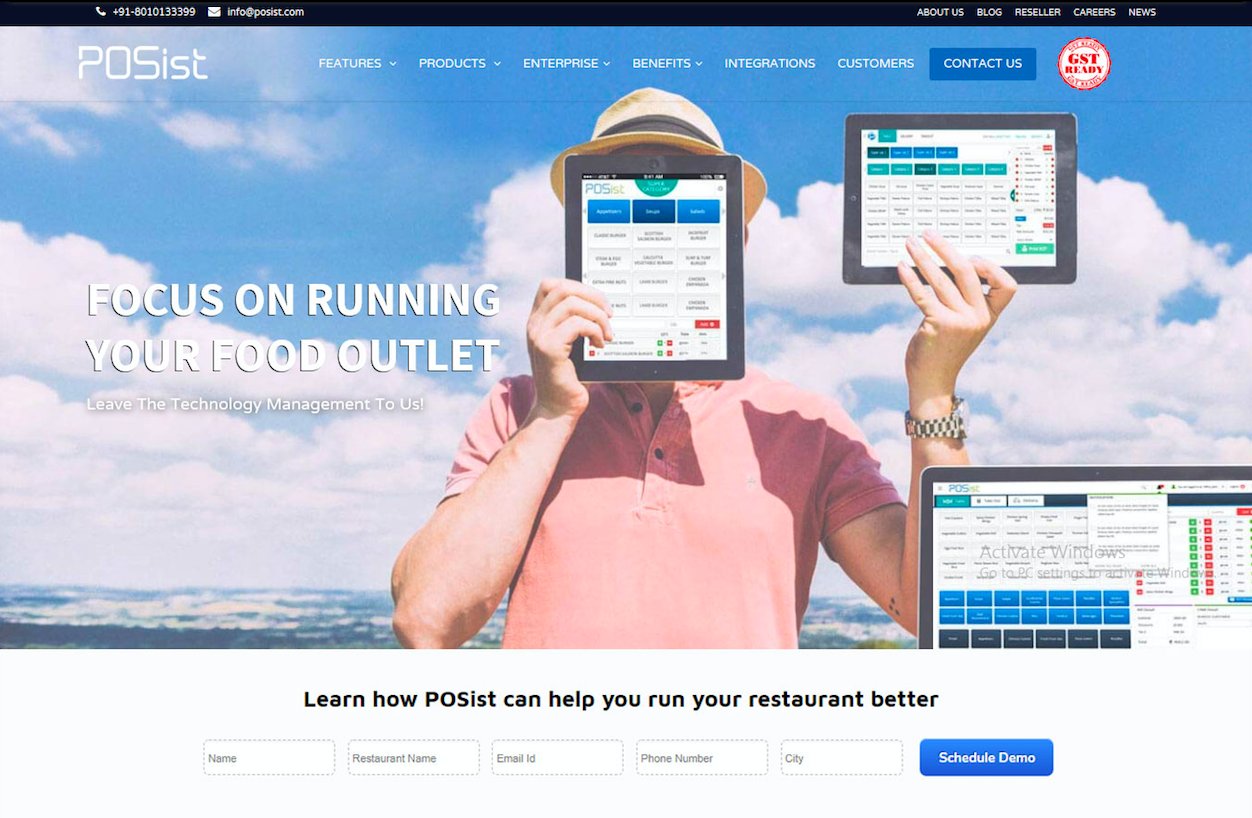 The team at POSist hypothesized that adding more relevant and conversion-focused content to the website will improve user experience, as well as generate higher conversions. So they created two variations to be tested against the control. This is what the variations looked like: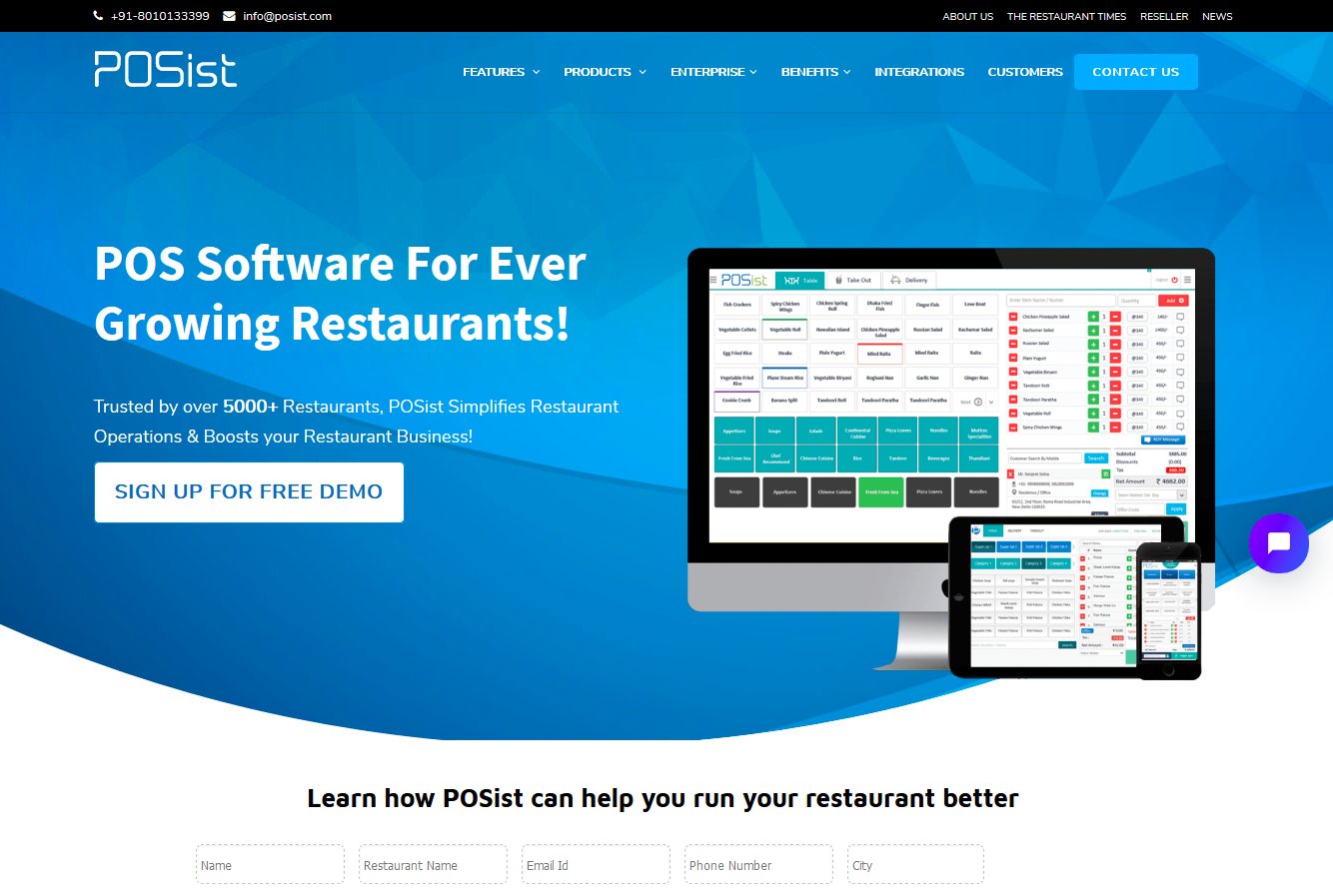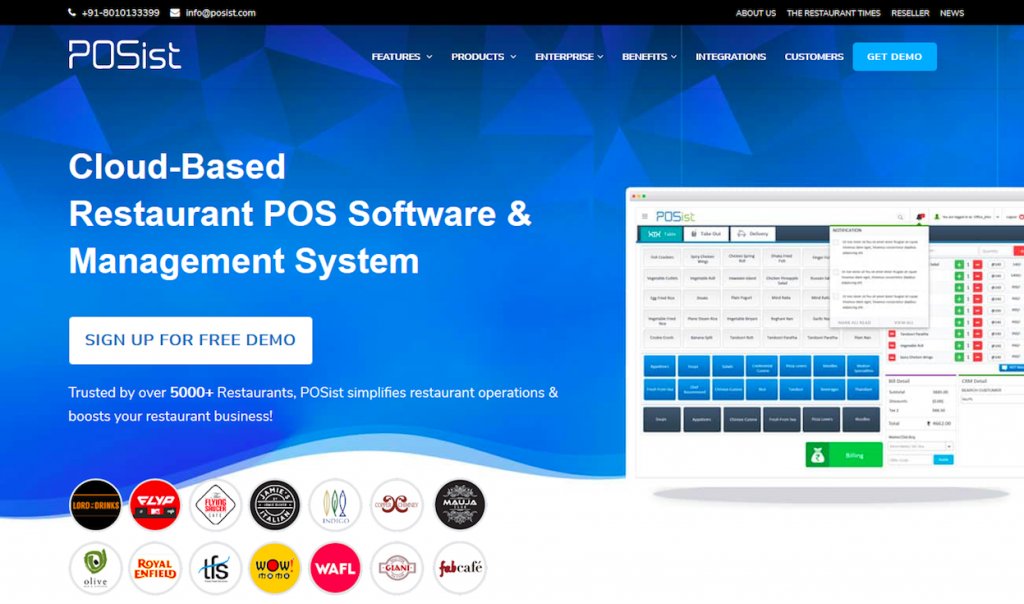 Control was first tested against Variation 1, and the winner was Variation 1. To further improve the page, variation one was then tested against variation two, and the winner was variation 2. The new variation increased page visits by about 5%.
Conclusion
Hopefully, by the end of the A/B testing example analysis above, you should be able to realize the importance of implementing it into your business strategy.  For those who are looking for a software development agency to help with your website/app development project, don't hesitate to reach out to JSLancer – our team will be more than happy to provide a FREE consultation on how we can help you visualize your goals.